It wasn't always pretty, but U.S. equities made it through this week largely unscathed in what looks like a testament to the notion that discretionary flows, fixed weight rebalancing and buybacks were enough to offset any systematic de-rising from vol.-control funds following last week's harrowing bout of volatility.
Below is an updated version of one of my favorite charts. There's nothing at all complicated about it and that's probably what makes it so effective – my penchant for making things needless complex notwithstanding, there's elegance in simplicity:

(Heisenberg)
The S&P (SPY) moved 1% or more in five of the last eight sessions, a marked divergence from Q3, when there was not a single session that saw a 1% move in either direction on a closing basis. However fleeting recent gyrations prove to be, October has so far been reminiscent of February.
Or has it? 30-day volatility is actually just now back to the post-crisis average. As Bloomberg's Heather Burke wrote on Friday, "the S&P 500's 30-day volatility of ~16.2 is above the 12.8 average this year, but well below the 2018's high of 24.1 in March." I took the liberty of recreating her chart and spicing it up a little with handy annotations for notable periods of turmoil. Here's my version: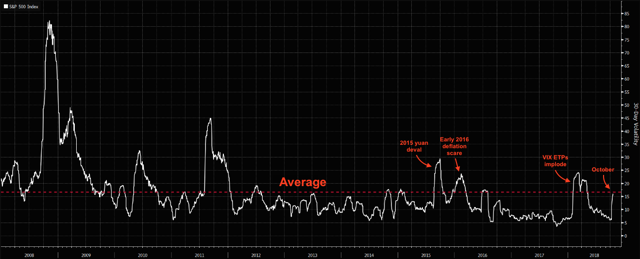 (Bloomberg w/ my annotations)
So that's some perspective for you as you ponder the relative severity of October's tumult.
On Saturday, I wanted to point out a couple of things that I think bear (get it?) mentioning going forward. As usual, this is an attempt to keep readers on this platform apprised of i) how the macro narrative is evolving and ii) how systematic flows are impacting the market. I document this in real-time over on my site, but I try my absolute best to translate it into more polished posts for readers here. This post is just another manifestation of that ongoing effort to translate rapid fire (often opaque) real-time commentary into more coherent narratives that are some semblance of digestible for everyday investors.
Ok, so in response to a few reader questions about Tuesday's monumental rally, I wrote the following in a Thursday post:
If you're (still) wondering what catalyzed Tuesday's surge, you can thank delta hedging, nearly $7 billion in CTA flows (SPX futs) and a precipitous squeeze in all manner of short factors.
That echoed the assessment of Nomura's Charlie McElligott, who on Wednesday wrote that "options dealers are still short enough gamma to impact market flow, so there was absolutely some delta hedging into the close — thus the rip into the close [and] large MOC."
On Friday morning, JPMorgan's Marko Kolanovic was out with his latest note and it probably won't surprise you to learn that from his perspective, the competing macro headlines that bombarded traders all week were by and large irrelevant when it comes to explaining moves in U.S. equities. Here's a short excerpt from Marko's note (more here):
Option hedging is a temporary impact (intraday momentum) that tends to revert. Consistent with this, we saw Monday US morning weakness, a large Tuesday rally and end of the day squeeze, a Wednesday US morning reversal, and [Thursday] acceleration on the downside – all significantly driven by dynamic hedging of index options. A similar impact was registered each day around the European close (11:30 AM EST) driven by dynamic hedging of European portfolios.
You're reminded that late last week, Kolanovic suggested that ~70% of the systematic selling was likely in the books. He went on to call for a rally into the U.S. close. That October 12 note hit at ~12:40 PM ET. His call was borne out shortly thereafter. His latest note comes with an annotated visual that illustrates the impact of option hedging as delineated in the excerpted passage above. I've endeavored to recreate that visual in the interest of making it a bit more aesthetically pleasing (I don't think Marko will mind). Here is my version:

(Heisenberg, adapted from JPMorgan)
You can take away from that what you will, but what I would say to everyday investors is the following. Retail investors and doomsday bloggers have a tendency to become overnight "experts" on systematic/technical flows anytime there's an acute selloff that "needs" explaining. If you're in that camp (i.e., the camp who likes to point fingers at systematic drivers when the market takes a dive because you've gotten the impression over the past several years that blaming those drivers is en vogue) just remember that you can't have it both ways. That is, you can't very well say that something like dynamic hedging exacerbated a drawdown and then turn around and say those same drivers are a figment of Wall Street's imagination the next week.
So that's the latest on the systematic side of the equation. As far as the evolving macro narrative and, more narrowly, the domestic story as it relates to Fed policy go, I want to remind you that "dollar shortage" dynamics are still front and center.
Simply put: There is considerable debate about whether the rather precarious setup that finds the U.S. issuing mountains of new debt to fund stimulus and pay for the tax cuts while the Fed hikes and unwinds its balance sheet is sustainable/viable (where that means it can persist without causing problems).
That scenario puts more and more of the onus for absorbing new supply on investors who aren't the Fed or, more to the point, more and more of the bid is price sensitive. Obviously, the market for U.S. debt is always going to clear, but that leaves open the question of whether clearing prices will ultimately be lower (higher yields) and also entails sapping dollar liquidity from the rest of the world.
On Friday, the above-mentioned Charlie McElligott warned about the dangers inherent in that setup on the way to noting that it's "converging further with an accelerated rush for year-end funding as money-markets strain, with LIBOR fixes going crazy MTD, a gapping wider in Commercial Paper and FRA-OIS with [Thursday] being especially acute [and] another bout of EU banking-stress theoretically further contributing to the 'grab' for Dollars in Euro cross-currency basis." Here's a chart: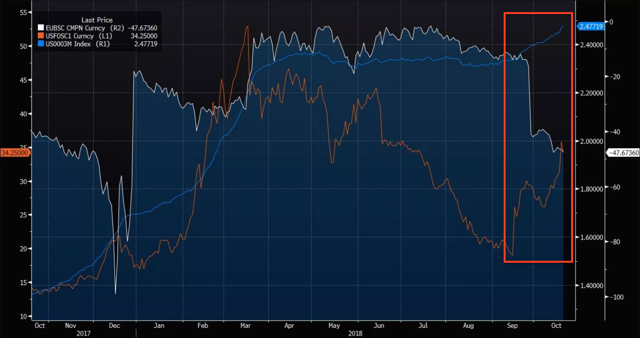 (Bloomberg)
The more of this you get, the more scope there is for an uptick in cross-asset volatility. This is just another manifestation of the "QT" dynamic and it's about to coincide with the ECB taper. The September Fed minutes tipped more than a little support among the committee for creating restrictive conditions and that's going to feed into everything said above.
The more acute the dynamic described above gets, the less appetite there's going to be for risk assets across the globe. The more yield you can get on USD "cash", the less willing you're going to be to take risk in anything else. That puts enormous pressure on, for instance, emerging market assets and European credit, with spreads on the latter still artificially suppressed by ECB asset purchases. Here's an excerpt from a BofAML note dated Friday that underscores all of this:
Fiscal stimulus and strong growth have also encouraged the Fed to push-on with rate hikes and Quantitative Tightening. The result has been higher Treasury yields and a stronger dollar in 2018, with US government debt much less negatively correlated to stock markets now than a few years ago. The tightening in US financial conditions has served to make the Emerging Market complex more fragile this year. EM currencies are still down around 12% since mid-Feb this year, despite a rebound since September. How is this all coming home to roost for European credit? In the current earnings season, note the rise in profit warnings from European companies that have grown their Emerging Market footprint over the last few years.
That latter point is important as it again lays bare the nexus between Europe and EM at a time when Italy is already spooking investors across the pond (the Stoxx 600 banks index hit a 2-year low on Friday, for instance).
For the next two weeks (i.e., headed into the U.S. midterms), you're likely to see a continuation of the push-pull dynamic that's driven U.S. stocks all year long. On one hand, buybacks and robust earnings argue for bullishness while, on the other hand, gale-force geopolitical winds and jitters about when the Fed will finally "break something" (to adapt the ubiquitous "hike until something snaps" market meme) argue for caution.
On the systematic front, it will likely take a more sustained (and a more acute) spike in volatility to prompt substantial de-risking from vol.-targeting funds and you would probably need to see another leg lower to prompt further unwinds from fast-moving trend following strategies.
Finally, you'll want to keep a close eye on China. The U.S. Treasury declined to name Beijing a currency manipulator in the semiannual report, which likely gives the yuan (CYB) scope to depreciate further. That's a potentially destabilizing outcome and the disappointing GDP numbers out of China on Friday lend credence to the notion that further currency weakness could be in the cards.
That said, authorities in Beijing resorted to aggressive (and I do mean aggressive) jawboning to close the week. If they follow through on some of the promises that were implicit in the rhetoric (e.g., preventing margin calls on pledged-stock loans and backstopping non-SOEs), there's potential scope for stabilization in downtrodden mainland equities.
Disclosure: I/we have no positions in any stocks mentioned, and no plans to initiate any positions within the next 72 hours.
I wrote this article myself, and it expresses my own opinions. I am not receiving compensation for it (other than from Seeking Alpha). I have no business relationship with any company whose stock is mentioned in this article.
https://seekingalpha.com/article/4212951-explaining-weeks-price-action-warning-scarce-dollars?source=feed